Welcome to our Annual Glögg & Meatballs event with Lucia procession!
The holidays are soon upon us, and what better occasion to celebrate in true Swedish fashion than a traditional Lucia procession at the Consulate of Sweden on December 13th?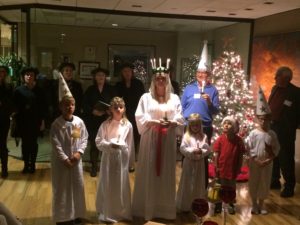 Swedish meatballs and traditional glögg will be available, letting you warm up and get in that special Christmas mood on this St. Lucia day. The SWEA women's choir will perform Christmas songs and a Lucia will visit us.
When: Wednesday December 13th, at 6:30 pm to 8:30 pm
Where: Consulate of Sweden Seattle, 5350 Carillon Point, Kirkland, WA 98033
To RSVP, please email names of attendees to info@sacc-seattle.org